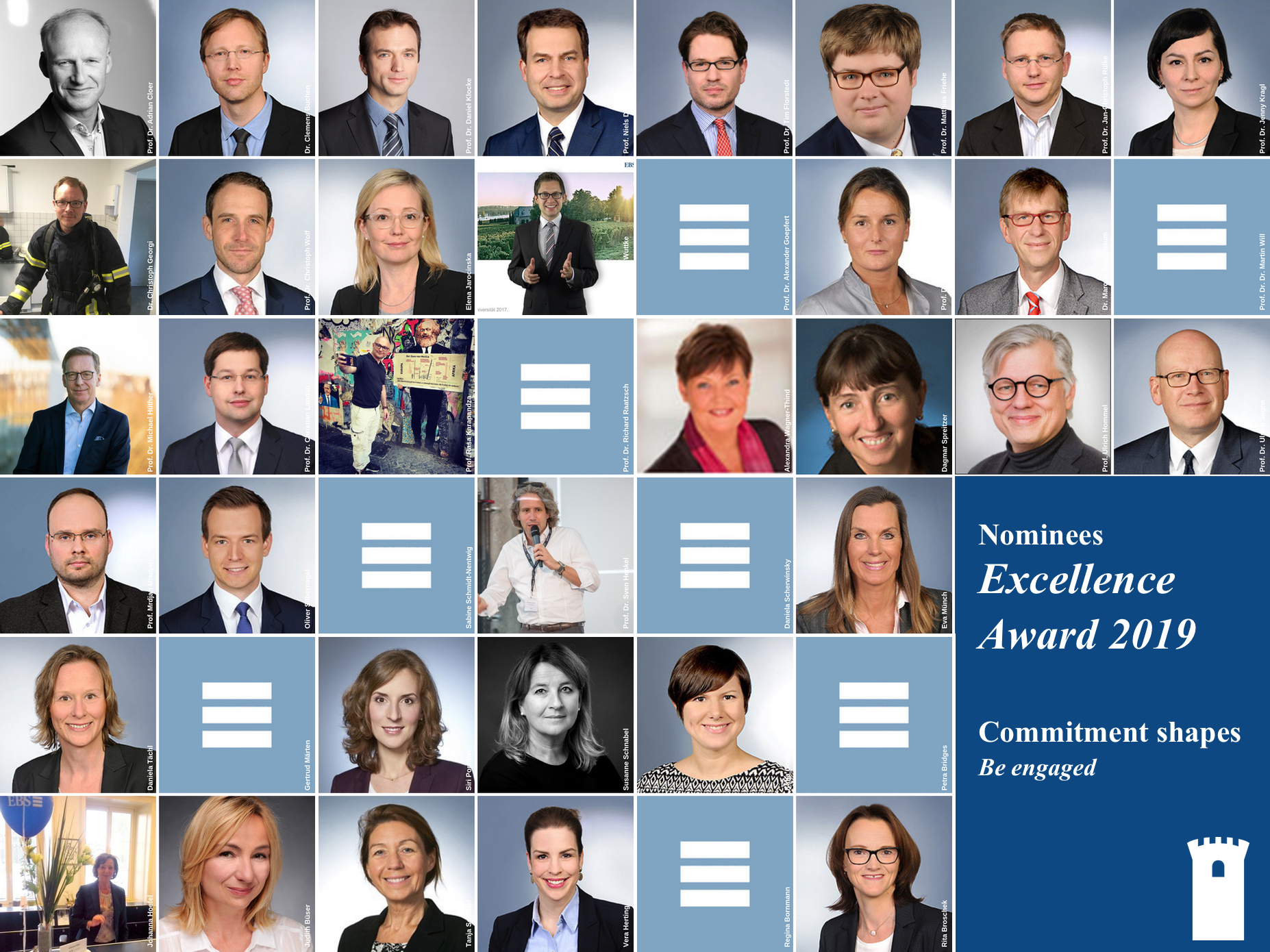 Nominees Excellence Award 2019
Dear fellow students,

Thank you for submitting your nominations for this year's Excellence Award. The EBS Student Body is proud to announce all nominees for this year's classroom excellence Award.
Vote now until 23.04.! Check your emails on MyEBS with the subject "Excellence Award 2019". Click on the link and use your personalized code to vote who should receive the Excellence Award this year.
Classroom Excellence
Prof. Dr. Adrian Cloer
Prof. Dr. Alexander Goepfert
Prof. Dr. Christian Landau
Prof. Dr. Christoph Wolf
Prof. Dr. Daniel Klocke
Prof. Dr. David Wuttke
Prof. Dr. Dr. Martin Will
Prof. Dr. Jan-Christoph Rülke
Prof. Dr. Jenny Kragl
Prof. Dr. Kerstin Hennig
Prof. Dr. Matthias Friehe
Prof. Dr. Michael Hüther
Prof. Dr. Richard Raatzsch
Prof. Dr. Sven Henkel
Prof. Dr. Tim Florstedt
Prof. Dr. Ulrich Segna
Prof. Mrdjan Mladjan
Prof. Niels Dechow
Prof. Rasa Karapandza
Prof. Ulrich Hommel
Dr. Christoph Georgi
Dr. Clemens Buchen
Dr. Marcus Kreikebaum
Elena Jarocinska
Oliver Silbernagel
Sabine Schmidt-Nentwig
Service Excellence
Alexandra Wagner-Thind
Dagma Spreitzer
Daniela Scherwinsky
Daniela Tächl
Gertrud Märten
Johanna Hoefel
Judith Büser
Katja Goetz
Petra Bridges
Regina Bornmann
Rita Broschek
Siri Pommer
Susanne Schnabel
Tanja Schader
Vera Herting
Janik studies General Management in the last year of his bachelor's degree. He has been a student representative at EBS since the first semester. He is mainly responsible for the education and congress Ressorts and represents the students in the Senate.