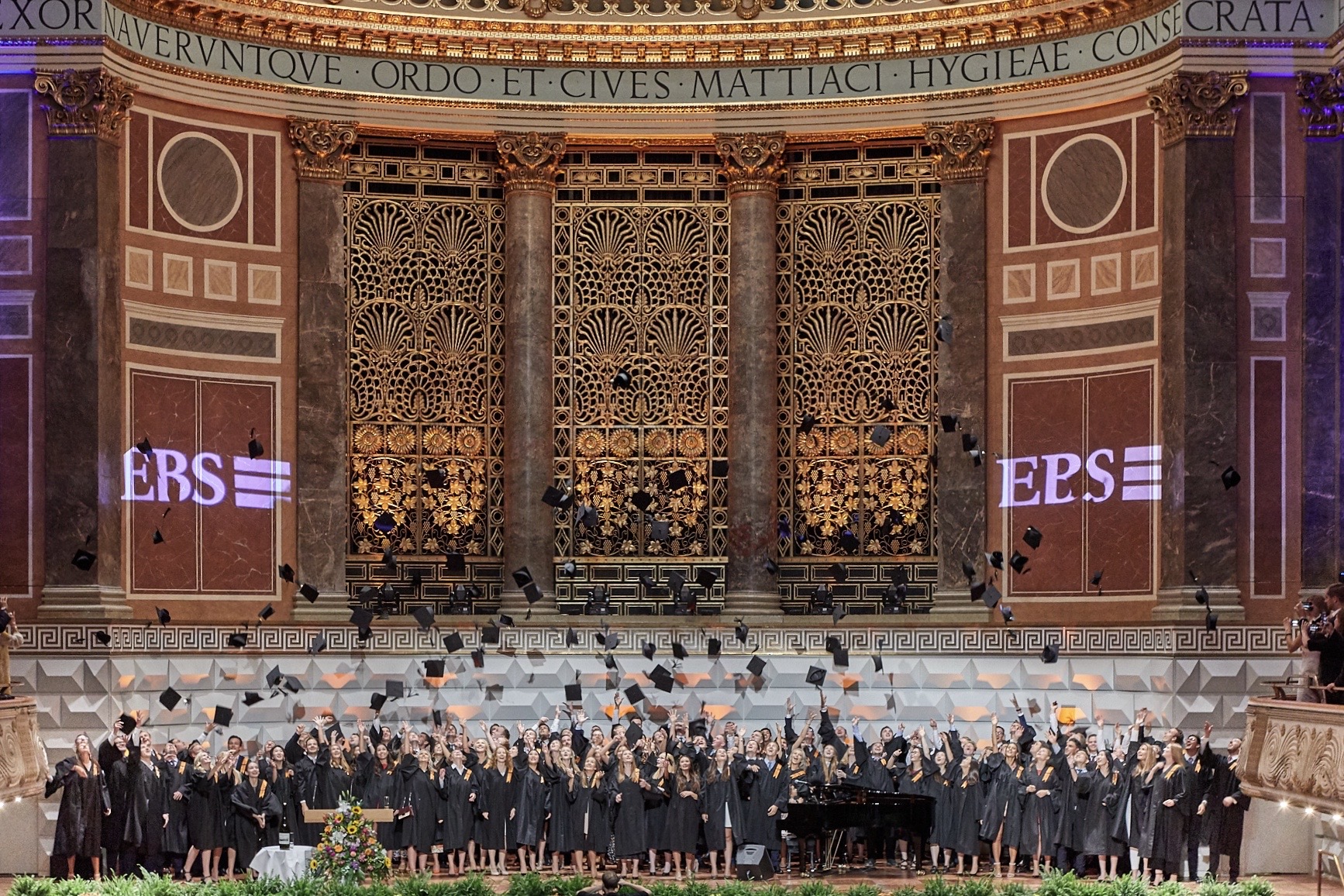 Congratulations to our 2019 graduates
This year we are once again proud of the graduation of our numerous Bachelor, Master, Law and Doctoral graduates.
Traditionally, the university, the graduates and their families and friends celebrate this day of celebration in the Wiesbaden Kurhaus. The highlight of this event is the throwing of the hats at the end of the official formal event in the morning.
Prof. Dr. Ogorek, President of EBS University, congratulated the graduates, praised the students' commitment to your university and wished everyone a future in which their own goals would become reality.
Ernst Hoffmann spoke to the graduates as EBS Alumnus (1985) and stressed the importance of a work-life balance. Hoffmann emphasized that he considered this concept to be a fallacy, however. In the course of the years it became clear to him that it was a life-life balance.
Janik Dienst and Felix Dittmann spoke for the bachelor class of 2019. In their speech they talked about the last three years together. Funny anecdotes were heard, as well as the students' everyday life at the university. An important part of their speech dealt with the time after graduation and the current political and social situation in which the graduates find themselves after graduation and how they can become masters with the tools they have acquired at the university.
We are currently experiencing a time in which values play an extremely important role. […] Protectionism becomes stronger than cooperation, but we all know all too well from our time at EBS that we can do more together, than on our own. Populists with their Twitter statements to highly complex questions are becoming eligible for the majority. […] But we all know and must become aware of this all the time: The strength of a society is determined by how it treats its minorities.

Every decision that we make, both privately and in business, has an impact on our society. […] We must resolutely oppose what does not correspond to our values of freedom and equality and we should judge people only based on their actions and not based on their appearance.
And that is what we should do from our strong position. Because there are many exciting topics waiting for us.
Caroline Hehl, representative of the alumni association's board of directors, then had the pleasure of honoring the scholarship holders and the winners of the Leadership Award.
Traditionally, EBS Business School Bachelor graduates celebrate the Bachelor Ball in the Kurhaus on the same evening. The evening was crowned by a speech by Gisbert Rühl, CEO of Klöckner & Co.
The event ended with a few thanks to committed students and a cheerful and entertaining moderation by the student representative Janik Dienst.